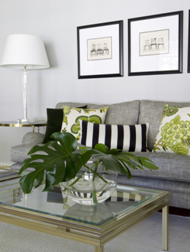 One of my most requested color combinations today in homes I design for is green and gray. Sophisticated yet fun, it's easily applicable to anywhere in the home. Perhaps one of my favorite ways to uniquely incorporate gray and green is a gray sofa with light green accessories and/or wallpaper. Gray fabrics have an understated beauty to them and go with a variety of different floor and wall treatments. A vibrant green pattern on the wall or pillows makes the gray stand out even more, and green accessories like plants or vases add delightful splashes of color while still looking elegant overall.
It's also easy to modernize a living or family room with green and gray. I love this ruffled lime green pillow, which combines two of today's hottest trends (ruffles are in!). In addition, these traditional chairs with a slight green twist are fun to pair with overstuffed furniture for a cool contrast. Finally, add in this warm gray rug for a furniture anchor and it's easy to take your designing and imagination from there.
What do you think about this color combo? Love it or hate it, leave a comment and let me know!