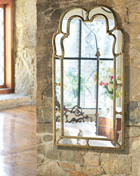 Mirror, mirror on the wall – who's the fairest of them all? You, of course! Mirrors are a great way to add depth and interest to a space. They come in all shapes and sizes: round, square, arched, even squiggly (the mirror on the right kind of looks like Elvis, how cute!). Whether you have a contemporary bedroom or a traditional living room, a mirror can brighten it up instantly.
So you love a mirror but don't know where to put it? Not to worry, DOTI has a few ideas for you! Hanging it above a sofa arrangement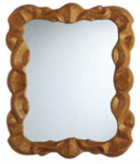 is an obvious solution, but having the mirror lean on a mantel instead is a current popular trend (a more rectangular mirror like the top left one would probably be more suited to this job, though!)
Or, if you have a tight hallway, hanging a mirror or two on the walls can instantly widen the space. And what about that half bathroom you're looking to give a little pizzazz to? Instead of just using the standard rectangular mirror, why not choose one that has a cool frame – like the mirror on the left from Arteriors.  Whether you want the mirror to be a focal point or merely an accessory to match the lamps and pillows, DOTI has plenty of ideas and resources to find you the perfect fit.