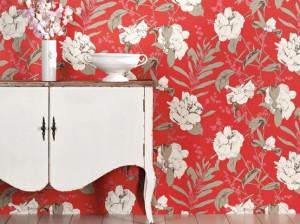 Make a statement in one of your favorite rooms with the classic application of wallpaper!  Yes, we said it…wallpaper!   Although this style maker has been around for years, it is predicted to make a huge comeback in the years to come.  Perhaps it is because of all the new possibilities available and the trendy designs seen everywhere you look.  Whatever the case, the results are absolutely stunning and bring an assortment of options to choose from. Here are the top 5 trending wallpapers:
Grasscloth– This type of wallpaper is made of woven fibers, provides a rich texture, and is environmentally-friendly. This naturally textured and colored wallpaper fills the room with a touch of the outdoors.
Bold, Geometric Patterns– Choosing a bold, geometric wallpaper pattern will create a bit of drama and add positive interest to a space.
Metallic– Using wallpapers with a metallic sheen is not only a trend, but it is a great way to brighten up a space and add shine without adding another light source in your space.
Big Floral Prints– Like grasscloth, this pattern brings a touch of nature indoors in a more stylized manner. It instantly creates warmth and polishes a room with a traditional elegance
Paintable Wallpaper– Paintable wallpaper is such an exciting product because it not only allows you to add your own personal touch, but the texture that it fashions in each room is exquisite. The color possibilities with this wallpaper are endless and are sure to match any room.
Before making your selection, it is important to understand the durability of the paper. Wallpaper is labeled in three distinct categories: washable, scrubbable, and nonwashable. Knowing each category will help you determine the wallpaper that will best suit your space. So go ahead and dare to make a statement with wallpaper!